Zen Kitten Paired With a Poem Series Unveiled ZenKittenArt
I recently talked to
ZenKittenArt
on Etsy, as I'm a huge fan. The shop , from Florida, specializes in photography that can so closely be associated with mixed media imagery, the photography seems to come alive and pop off the page.
I asked them a few questions...and acquired a rare interview. For one, the photographer is sort of an enigma really as they prefer to go by "Zen Kitten". I was unsure just how they obtained such great shots, wondering like most inquiring minds do, if the shots were staged or super imposed, but what I found out just makes this work even that much more magnificent.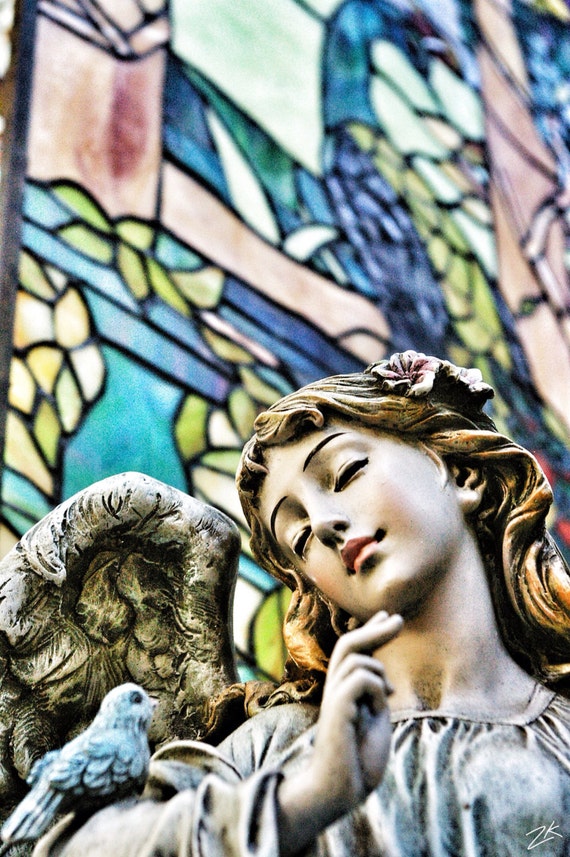 Author's favorite: BirdSong, Museum Quality for $35 at Zen Kitten Art
About the Photography....


Me:
These images are one of a kind, and some people may think they are too good to be true. A lot of photographers stage their photos, do you?
ZK: I focus on statuary, angels, gargoyles, gardens, fountains, architecture, cemeteries, fairy, sphinxes, anything mythical, mystical,or magical, all grounded in a level of reality because I don't stage my photography. They are all scenes alive out in the world someplace, or at least they were when I shot them. I especially love things with wings.
Me:
I love the fact most shots look vintage style, old and weathered and like mixed media artwork would, or a 3-D creation. How or why did you choose this look?
ZK: Mixed Media Art has very definite authentic feel to it. I like art to be distressed. While many images are clear and crisp, either the subject matter is distressed, or the digital work I do on the photographs later stresses them out, generally a combination of both.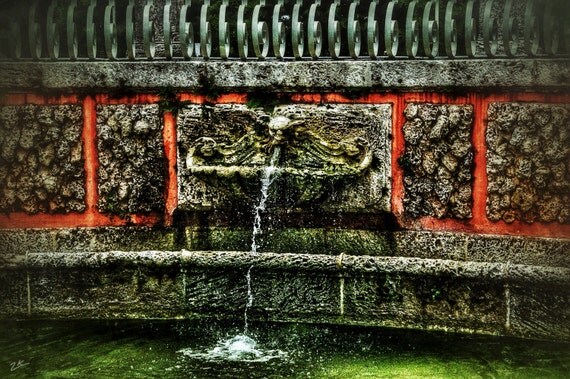 Paired with a Poem: The Torrent or the Fountain, by Edgar Allan Poe, Find ZK's shot here.
Paired With A Poem...


Me: Can you tell us about your current Paired With a Poem project and what inspired it?


ZK
: My college background is in poetry, and I have started a series where each photo is named from a line I poetry, and I include the poet and a snippet of their poem that inspired the pairing. The poets range from Victorian era EdgarAllen Poe to contemporary W.S. Merwin.
Me:
How exciting! I bet it is difficult finding shots for all your favorite poems! Have you completed this project yet?
ZK:
I'm currently working on a pairing for The great Medieval poet Dante. I have Rita Dove poem I'd like to pair but haven't found the right shot yet.
About Etsy
Me:
Tell us more about your Etsy shop, and what once will find there?
ZK:
On my Etsy page, I sell my photography in a vast number of styles: museum quality Giclee prints, wrapped canvases, metal prints, photographic prints on high quality photo paper, mini frames, and cards. Prices range from $175.00 to $12.95 so there is a good assortment for any budget.
Me:
I see you are adding to it all the time, is anything new and coming?
ZK:
I'm about to also offer linen prints on archival matte, but those aren't done and up yet. I also have a local framer and can work hand in hand with my customers to have any prints or canvases framed with a hand built frame that matches their specifications for colorant size, or I will choose a highly complimentary frame in the budget range they are looking for.
Special thanks to Zen Kitten ,3 for taking the time out to do this interview. People think art has to be expensive but some of my favorite artwork in Zen Kitten's shop is only $12.
Catch up with them
On Etsy
On Facebook
Get link

Facebook

Twitter

Pinterest

Google+

Email

Other Apps
Email Post