IslandTreasures2013 Etsy Jewelry Made in the USA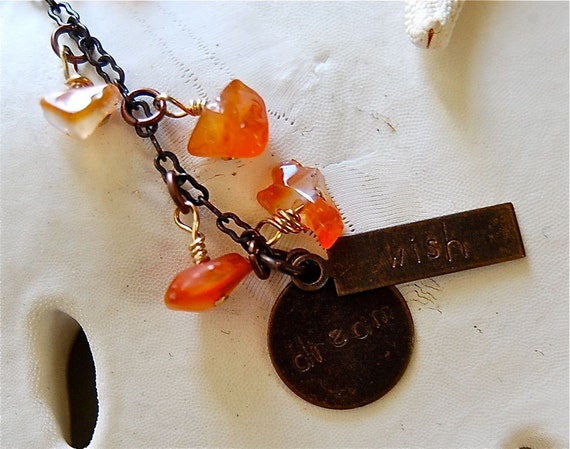 Lovely Infinity Necklace features Carnealian Stone Chips $45
New Etsy shop
IslandTreasures2013
is run by Alyssia Dodson from Manvel Texas. Her creations are colorful and incorporate natural elements that look lovely hanging from your neck, wrist, or ears! Some of her items are photographed uniquely against sand dollars, and are island inspired! I wanted to find out more. Here is our interview!
Q: When did you start creating jewelry?
A: I started creating jewelry for a few reasons. I've always been a creative person, and I love to act, sing, paint, and create art. I am an actor and coach aspiring actors as well. I work as a Corporate Director for an acting school, and while I enjoy what I do, I long to have the freedom to travel, spend time in other places to pursue acting, and to be with my family.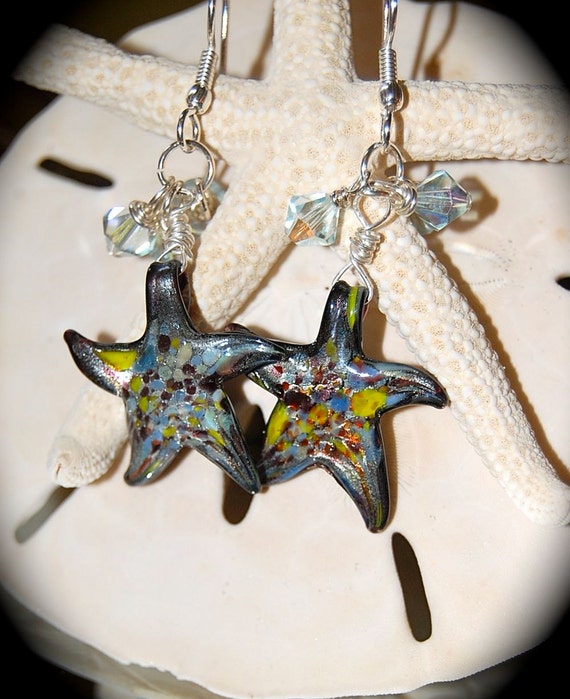 Lovely starfish earrings made of glass are colorful and a unique gift idea, $35
Q: How did you make the decision to open up shop on Etsy?
A: I've always wanted to be able to work for myself and to do what I love while helping to support my family. I also love jewelry and fashion! I have spent so much money buying jewelry from other people, and thought to myself, "why can't I try and create my own unique jewelry?!" That was the seed that started the venture. My husband also longs to break away from working for a company. He works long hours six days a week to support us, and he too wants the freedom to work for himself and set his own course. I wanted to be able to contribute to our family and to our future business in a way that I found fulfilling. So, I set out to learn this new craft so that I could begin a new adventure and help my family along the way!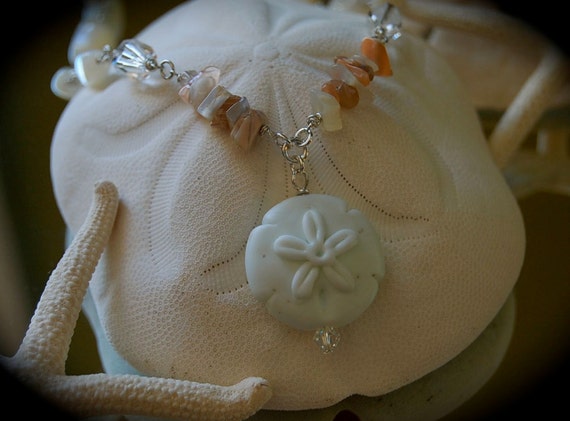 Lampwork Sand Dollar Necklace $145

, this is my favorite.
Q: Tell me more about your creative process...
Each piece I create is one of a kind. Many of the pieces are inspired by the beach and sand dollars because my husband and I love the beach! We got married in Puerto Rico and fell in love spending many of our days at the beach hunting for sand dollars together. So the sand dollar holds a special place in my heart. We've collected them and they are displayed in our house. Using the beach and the ocean as inspiration, Island Creations and Treasures was born! I love creating each piece of jewelry and every item is crafted with thought and care. I hope that this is the first step in helping to build a future for my family!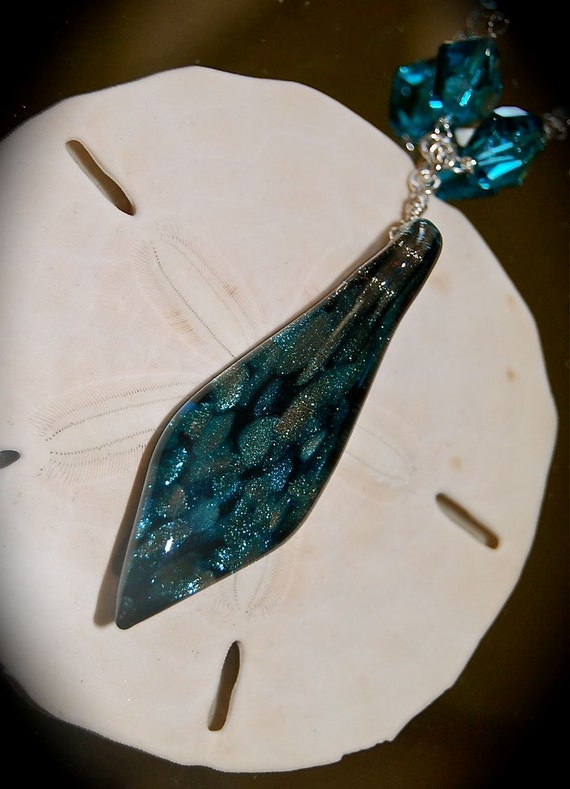 This lovely sea blue glass pendant is unique in design and $65

!
Connect with
IslandTreasures2013
on Etsy.