Why You Should Doodle Like David Cohen
David Cohen draws these wonderful rabbits!




Art for Everyone
Today's Artist Corner features the work of David Cohen, his
Etsy shop is Doodleslice
, where you will find prints, key fobs, shoes and more from him. But today I'm not here to discuss David as an artist but the principal in fact--his doodles.
Doodle When You Can
What I've always said about art is that you should be creative and do what you love. If you feel the need to pick up a marker and doodle, you should do it. David Cohen does just that with his wonderful little original drawings - many with markers and many with adorable rabbits as the medium.
If you had cute shoes like this you would be spreading the love via sneakers. These Sneakerdoodles here.
Art Saves
The art comes out nanturally and the messages are full of what inspires him - Love, Kindness and making the world a better place. David talks
here on his old blog about imperfection
in the world. He said, "The world is not a perfect place – a quick glance at any newspaper, newsfeed, news site, or newscast will provide ample confirmation for that idea, but so what? Where else are you going to live?" That my friend, is a great question. Today we are so consumed by the events on our news that we forget that we alone can't change the world.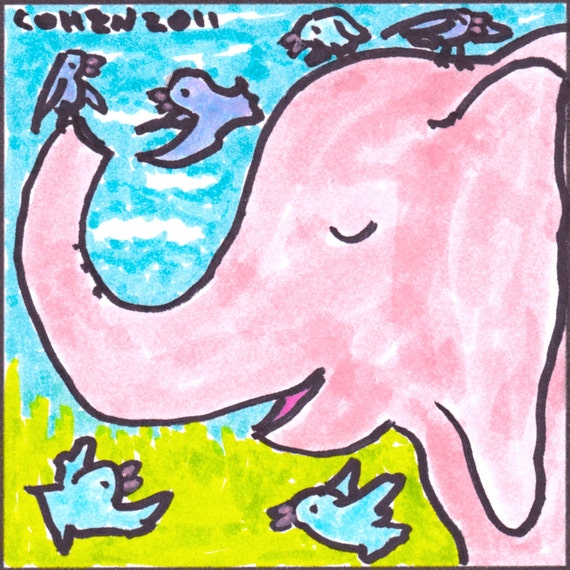 Ella and Friends David S Cohen on Etsy. Peace, Love and Harmony comes from this print.
You can however try to get out good and positive messages through art. You can prosper inside your world of art, and express yourself when life gets you down. Express yourself with pen and paper, ink, markers, clay, paints, or glue and paper - just do it. Be creative and prosper. I've always said that art saves. I really think if you don't focus so much on the negative and focus on the positive you will see the glass half full.
As for David, you can check him out on his
website
,
Etsy shop
, or
Twitter.
Cute greeting cards on his
Pinterest boards too!