Baltimore Maryland Love Hate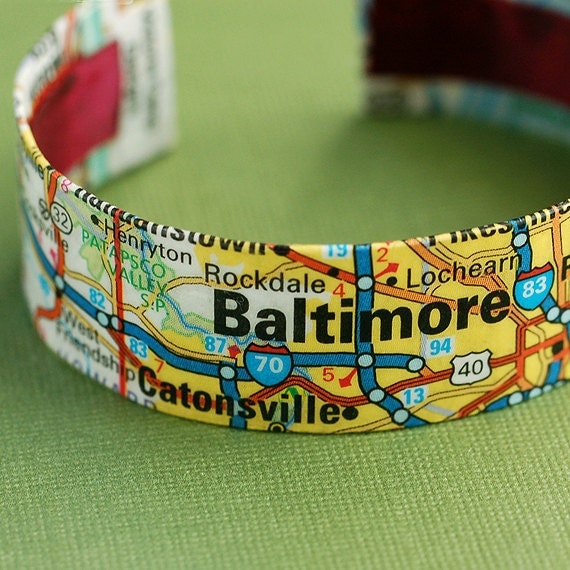 Sport a Baltimore Map Bracelet, available at vsc83 / Etsy.
I've lived in Baltimore all my life. I was born in Baltimore County thirty-eight years ago and moved to Baltimore City thirteen years ago. My relationship with Baltimore is love-hate. Quite honestly I've seen it grow so much, and end up on the
News and World Report's #8 of 11 most dangerous cities report for 2011.
I remember as a child never locking our houses or car doors. My, how things have changed. I remember going to the old Memorial Stadium to watch the Colts football team practice when I was a child. I have the team's autographs somewhere. Probably should fish them out they may be worth some money now. I was really pissed when the Colts jumped ship in the middle of the night but even more so when Baltimore's upper crust tore down the original stadium. I thought they'd reclaim it into something else, but I guess now. I suppose with all bad things come good. The new Ravens stadium is awesome and I guess for the prices they charge both Camden Yards and Raven's Stadium bring a lot of revenue into our city. I try to hit a few games here and there, but everyone I know complains they would rather be home in the confines of their living room with front row seats rather than dropping $300+ on tickets, parking, food, and beer (average for 2 people.) Fun in Baltimore is NOT CHEAP.
There are great parts of the city , some places like Fells Point or Little Italy must be experienced. The Visionary Museum is a must see. Great things come from Baltimore, like
Josh Charles
(saw him in the Mars),
Stieff Silver,
and the creation of
Baltimore Pit Beef.
Thank Goodness for
Ray-Ray
(met him too, does a lot to give back to charity.) I try to buy local , eat locally (lots of crabs) and give back as much as possible. I see a lot of businesses struggling because things are so pricey the small business man can't make it.
Did I mention, they call this Charm City. I don't know why really, but I was thinking it's because as a voter, you are charmed into thinking your congressman is working for you, when in fact, we are on the worst crime list and get an extra 55% piggyback tax on your earnings and an average of $3500 in property taxes....OUCH. If you want to move to Baltimore City, you better have a damned good job because it's pricey here, otherwise you are on State Assistance and that's probably where my extra 55% is going.
I just love that old building that's boarded up. The one next door is for sale, also.
Sadly for all the good there are unfortunately a ton of bad parts too....it saddens me to see so many homes boarded up in crime riddled neighborhoods. The kind you wouldn't want to drive through at night for fear of a flying bullet grazing you. The words
"Stop Snitchin'"
have a meaning.
Now, what upsets me is the fact some areas are so bad they can't give the buildings away. No one wants to move in or start a business because of the crime rates. These buildings are architecturally wonderful, a real designer's dream. Just look at the one above, the painted green embellishments on the top of the building are simply lovely. Pride in building the strutuce is evident--these were the cornerstone of our society and history here. Now you may only see these once-wanted relics from glimpses in the show "The Wire." I wish there were more renovation project happening in these areas to do neighborhood clean up.
I guess you have to love it , hate it , or love-hate it. Although it's probably time for me to go....I would hate to as I love my neighborhood and my neighbors. In fact John Waters filmed a movie on my street so that was pretty cool. So, if you are looking for a cool place to live
contact me
I'll sell you my house really cheap!
For the visitor or passing-thru folks, here are some helpful links and things you'll definitely want to check out:
Things to Do List
Camden Yards
Ravens Stadium
Visionary Museum
Crab Quarters
my favorite restaurant :)